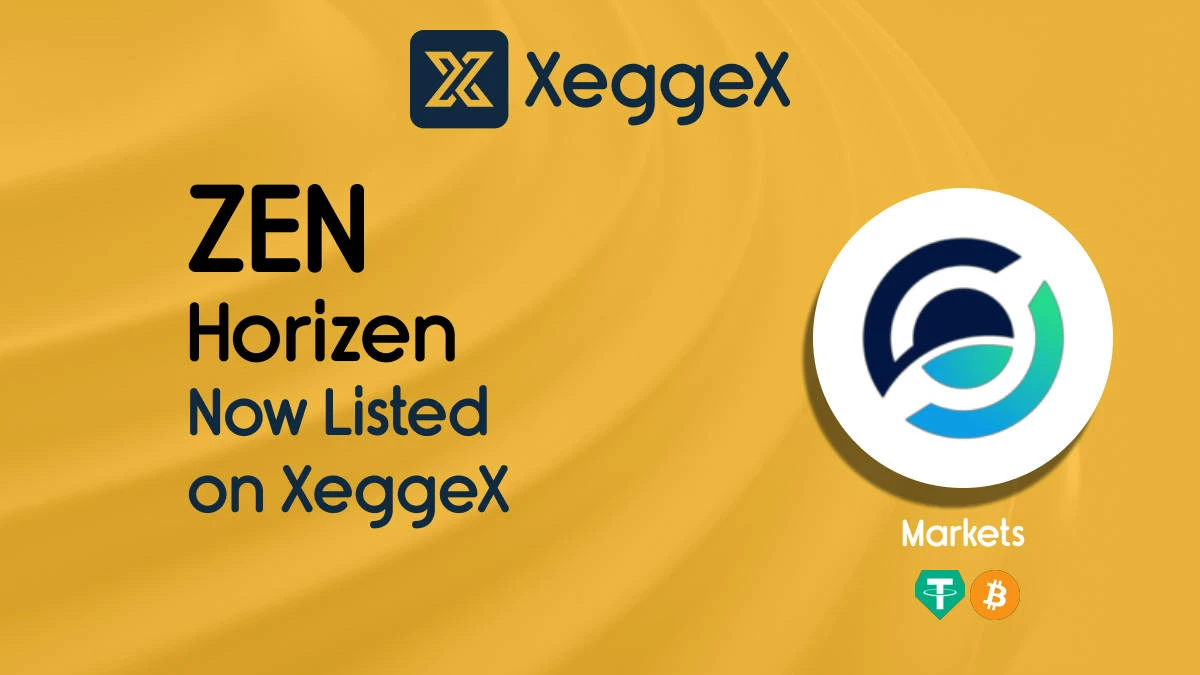 Horizen (ZEN) has been listed on Xeggex exchange in the following markets:
ZEN/USDT
ZEN/BTC
About Horizen (ZEN)
Horizen ZEN (previously known as ZenCash) is a digital cryptocurrency with a focus on privacy. The decentralized blockchain platform Horizen is used for cryptocurrency transactions and communications with optional privacy. The goal of the creators is not just to provide users with anonymous transactions but to create a secure environment where people can communicate, share information and perform different activities with the possibility to hide their traces.
The US-based Zen Blockchain foundation that controls Horizen was launched in May 2017 without ICO and pre-mine. ZenCash launched its network at the end of the same year and it was the first end-to-end encrypted cryptocurrency network. In August 2018, ZenCash was rebranded under the new name of Horizen. Horizen key features The platform focuses on such principles as:
Autonomy. Using a decentralized model without a central authority, Horizen's DAO (Decentralized Autonomous Organization) is more resilient to the attacks from the outside than a traditional corporation. Sustainable economics. The team standing behind the project believes that a better world is achieved with the help of technology and economic activities resulting in a strong and sustainable ecosystem. Research and development. The team believes that it's essential to develop a wider cryptocurrency ecosystem.
Horizen is not the only blockchain project focusing on privacy, but it comes with the following features that help it stand out of other projects:
There is a possibility to select among pseudonymous addresses or entirely private transactions if necessary. It employs client to client and node-to-node communication thus giving better censorship resistance. The users are fully protected using anonymous publishing via ZenPub. Horizen network Horizen is a scalable blockchain system with a new Cross-Chain Transfer Protocol (CCTP). It helps to develop an entirely decentralized sidechain ecosystem thus making the Horizon system a "blockchain of blockchains". Its protocol checks if consensus is executed correctly in compliance with the rules established by the developers of the sidechain. The modular protocol enabled by the system architecture makes the consensus of sidechains fully decoupled from the core. Modularization of this kind allows massive scalability. The network doesn't depend upon single consensus, programming language or the same design detail in its sidechains.
The foundation stone of the platform is "zero-knowledge" cryptographic technology called zk-SNARKs that presents a new form of zero-knowledge cryptography (Zcash was the first project to implement it). The platform features a strong privacy thanks to full encryption of shielded transactions with verification as valid under consensus rules of the network applying zk-SNARK proofs.
Also, the following protocols ensure anonymity and privacy: TLS integration, distributed publishing, domain fronting, client-to-node encryption, and end-to-end encryption. The users take control of their privacy by selecting the level of transparency they wish. The network includes the DAO, a private messenger ZenChat, a publishing platform ZenPub, and an endpoint masking similar to TOR ZenHide.
The Super-Nodes created by the team provide support to numerous applications such as ZenXchange, ZenGrid, etc. A secure node system is used by Horizen to transmit data through the nodes using the core protocol with strict privacy requirements. All messages in the ZenChat service are secure. ZEN token As it has already been mentioned above, Horizen didn't have an ICO as ZenCash was forked from Zclassic (ZCL). The holders of ZCL received ZEN at a 1:1 ratio. The mining algorithm Equihash Proof-of-Work (PoW) was employed to get ZEN, but after a 51% attack in June 2018, the team started working on a new consensus algorithm to improve the security.
ZEN is a privacy coin that comes with a full set of secure and private tools to help users stay protected. It's traded on the open market of cryptocurrencies. Among the official wallets are Sphere developed by Horizen, Arizen, Horizen Core, Zen Wallet, MyZenWallet and Swing Wallet. It's also possible to store ZEN on the third-party wallets such as Coinomi, Ledger, CoolWallet.
With the total supply of 21 million ZEN, the following distribution mechanism is used to allocate mining rewards and to raise funds for the development of the project:
60% is allocated to miners 20% is given to DAOs 10% is allocated to Secure Node Operators 10% is allocated to Super Node Operators
Horizen team and partners The co-founders of ZenCash are Ron Vigilione, a former physicist and mathematician who is presently a Ph.D. Candidate in Finance researching blockchain, and Rolf Versluis, an experienced business owner. The team also includes software developers who work constantly over the network to release frequent updates.
Horizen partners with a technology company IONK for faster improvement of scalability, security, and performance of the network.
Find out more information at their website here:
https://horizen.global
Links to other details can be found on our asset information page here:
XeggeX Asset Info for ZEN
Posted by
: Karl @ 4/22/2022, 7:55:39 AM GMT